The European currency received support on Friday following a major collapse on Thursday and meeting of the European Central Bank. Optimistic data on the growth rates of wages in the euro area led to some demand for the European currency in the first half of the day. The diverse fundamental statistics on the American economy did not contribute to the US dollar strengthening, and the White House's claims related to China's trade tariffs as well as the returned interest in asylum currencies from investors.
According to Eurostat statistics, hourly wages in the euro area for the first quarter of this year increased by 1.8% year-on-year, after a 1.6% growth in the 4th quarter of 2017. Such data will necessarily lead to higher consumer spending and the strengthening of the European economy in the second quarter of this year, which is really needed by the ECB, especially on the curtailment of the asset redemption program in December this year.
The two-week talks between Washington and Beijing did not end, as US President Donald Trump administration announced tariffs on imports from China at a total cost of $ 50 billion. First of all, we are talking about tariffs on goods from China, which contain industrially significant technologies. The White House also said that they would impose additional duties if China took retaliatory measures.
Earlier, China's representatives have repeatedly said that the imposed tariffs on the part of the United States will not remain unnoticed.
Based on the US economy data, the growth of business activity in the area of responsibility of the Federal Reserve Bank of New York should be noted. According to the report, the leading production index in June 2018 has grown to 25 points. The subscriber price index fell to 52.7 points, while the subscription for new orders rose to 21.3 points.
Industrial production data in the US somewhat disappointed the investors in the afternoon. According to reports, US industrial production in May this year fell by 0.1% compared with April, while economists predicted its growth of 0.2%. Capacity utilization in the US in May amounted to 77.9% against the forecast growth of 78.1%.
The Consumer Sentiment Survey was published at the end of the day but was generally ignored by the market. According to the data, the preliminary index of consumer sentiment from the University of Michigan in June 2018 amounted to 99.3 points versus 98.0 in May. Economists expected the preliminary June value to be 98.3 points.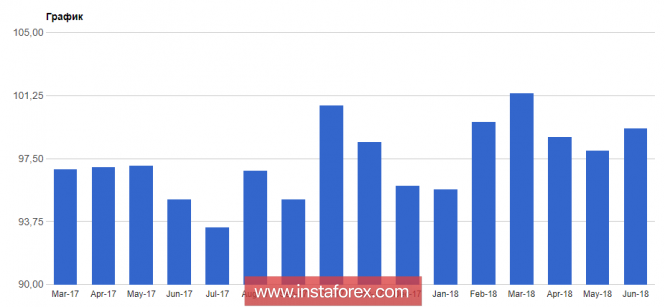 * The presented analysis of the market is informative and is not a guide to the transaction.
The material has been provided by InstaForex Company – www.instaforex.com